Womad policing concerns settled after licence hearing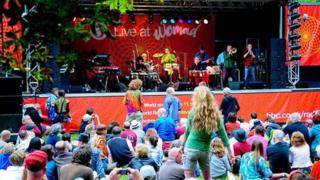 The renowned Womad festival will continue after agreements were made over policing concerns.
Following a hearing, Wiltshire Police said it was content that conditions had been set which would "provide a safe event for people to enjoy" in 2013.
Earlier this year the force had challenged the licence that allows the annual festival to be staged on the Charlton Park Estate near Malmesbury.
The festival, co-founded by Peter Gabriel, has been running for 30 years.
'Crime prevention'
A Wiltshire Police spokesperson said: "Our priority is, and always has been, to work with the organisers to ensure the safety and security of festival-goers, and of the public across the county.
"In June 2012, Wiltshire Police applied for conditions to be placed on the Womad licence to ensure adequate time for planning and appropriate procedures to be put in place.
"These conditions will meet the objectives set out in the Licensing Act, in particular the promotion of public safety and the prevention of crime and disorder."
Womad - which stands for World of Music, Art and Dance - runs 160 festivals in 27 countries, although its mother festival is based in Wiltshire.