Trowbridge war graves renovation 'a tribute'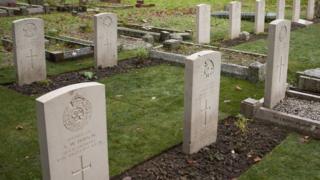 The renovation of 12 war graves in a Wiltshire town has been praised as a "lovely tribute".
New turf has been laid and borders have been created around the group of graves at Trowbridge Cemetery.
The work has been carried out as part of a wider programme by the Commonwealth War Graves Commission.
Wiltshire Council said the work "will be a lovely tribute to the people from the Trowbridge area who gave their lives in the World Wars".
Trowbridge Cemetery will also now receive a Commonwealth War Graves Commission sign to indicate there are war graves there.
Last year the commission inspected all of its sites in the UK and has since been working to bring some areas up to its specifications.