£1bn worth of fine wine is buried under the Wiltshire countryside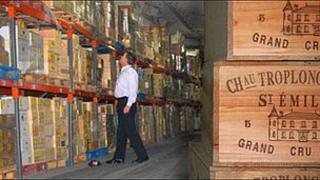 On the outskirts of a Wiltshire town, buried 100ft (30m) underground is more than £1bn worth of fine wine.
About 12 million bottles, some worth thousands of pounds each, are in storage - stacked floor to ceiling in the Octavian vaults beneath Corsham.
The global demand for fine wine has remained "static" and it is estimated that investors have lost more than £100m over the past four years.
But beneath the Wiltshire countryside the vast 30-acre subterranean complex is continuing to fill with Château Lafites, Latours, Pétrus' and Margauxs.
"We've got about a million cases of wine underground at the moment," said Vincent O'Brien, the company's managing director.
"And in the run up to Christmas, we've got cases worth up to £120,000 going out.
"But there's more wine coming in than going out - so it's becoming a bit of a challenge for us with space."
Sited in a disused limestone quarry, the Corsham Cellars cover an area the size of 20 football pitches.
Hidden away from natural light, with a constant temperature and controlled humidity, the acres of vibration-free tunnels offer the "perfect conditions" in which to "lay down a fine wine".
And many, including it's rumoured Andrew Lloyd Webber and Sir Alex Ferguson, have not only invested in wine they are unlikely to drink but have buried them underground in Octavian's vaults.
But for Paul Lewis, from BBC Radio 4's Money Box programme, investing in wine is not only a gamble but definitely "not for the amateur".
"No-one in their right mind should invest in wine unless they are an expert," he said.
"It's a bit like gold - it may or may not go up and people are gambling on the future price of the wine they own, hoping it will be worth more then they paid for it after all the charges.
"It provides no income and unless you really, really know the wine you'll have no clue when the best time is to sell it or whether you've got the right one."
'Fallen away'
According to the Radio 4 programme, people investing in fine wine have lost an estimated £100m over the last four years after the collapse of numerous vintage wine investment firms.
Richard Harvey, international director of wine at the auction house Bonhams, said prices have "fallen away" since the Far East fuelled boom a few years ago.
"A case of 1982 Chateau Lafitte is worth about £20,000 now, that's a good price.
"It was worth double that two and a half years ago," he said.
"There has been a significant fall back in prices - but in the last six months it has remained quite static."
Meanwhile, with almost every available nook and cranny of its vast underground labyrinth stacked with wine crates, Octavian is gearing up for the arrival of the 2009 vintage.
Bought at the height of the speculation and bottled this year, the '2009s' are due to arrive at their vaults in the new year.
With the 2010 vintage being another "very good year", according to Mr Harvey, the Corsham Cellars are under pressure to look above ground to expand.