Insurer Zurich cuts 76 jobs in Swindon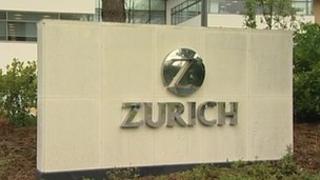 Dozens of people working at Zurich in Swindon, Wiltshire, will lose their jobs by the end of the year, the insurance company has announced.
The firm revealed in September it would be making organisational changes to its UK Life operation. A consultation process has been taking place.
Zurich is axing 155 posts in total: 139 are Swindon-based and 76 redundancies will be from the Station Road site.
The company has said it will work with those affected to find redeployment.
'Challenging market conditions'
"As a result of the organisational changes announced earlier this year, around 155 roles will go from across the life business resulting in around 85 redundancies at the end of the year," said a company spokesperson.
"In the meantime we continue to work closely with those affected to identify suitable redeployment opportunities within the company."
The company announced in September that the "functions and management" area of the business, which currently employs 1,400 people, would be at risk due to "challenging and changing market conditions and unprecedented regulatory change".
This included jobs in sales and marketing, senior management, finance, risk, compliance and operations.