Malmesbury gets £5,000 emergency fund from town council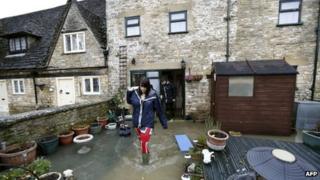 A £5,000 fund and emergency plan has been set up by a Wiltshire council to improve help for flood victims.
Last month, 20 properties in Malmesbury were flooded and four people had to be rescued from their homes.
Town mayor Ray Sanderson said: "We are going to be proactive. We are going to produce an emergency plan which will incorporate a flood plan."
But the emergency meeting on Thursday received mixed views with some claiming the council was ineffectual.
'Good intentions'
Bridget Saunders, who lives in a flood risk area in the town, said all she had seen was "a lot of heat, not much light".
Miss Saunders added she was "fed up with just pontificating, committees, meetings and nothing happens".
Councillors discussed whether to issue a newsletter, or fliers, listing useful names and numbers for affected residents.
Simon Killane, the councillor for Malmesbury, said: "Having an emergency plan is a very basic thing for parish and town councils to have.
"It's basically a list of phone numbers to get the right advice, or simple things like how to get hold of sandbags or on the flood risk register with the Environment Agency.
"Many of our residents didn't have that and because of it they weren't as aware of the imminent flood and the damage it can cause to houses and so on."
He also admitted £5,000 was a small sum of money.
"It's not a lot, but to be honest co-ordinating a plan doesn't cost a lot of money.
"It's about people coming together. A register of volunteers so as soon as there's an emergency, they can come out and help."
The council has also organised a meeting with the Environment Agency on 16 January for residents to air concerns about flooding.