Wiltshire poultry farm decision deferred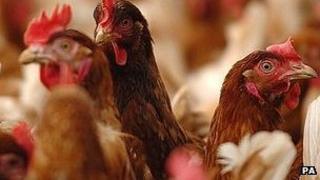 A decision on whether a chicken farm can open in Wiltshire with more than 200,000 birds has been deferred.
The application at Deverill Road in Sutton Veny had been recommended for approval by Wiltshire council.
But a 400-name petition and 140 letters of objection were submitted by residents claiming it would be noisy, smelly and increase traffic.
2 Sisters Food Group, the firm behind the plans, said it would be using land that had already been a poultry farm.
'Voted unanimously'
According to the Spitting Feathers action group, some 70 objectors attended the council meeting.
Group chairman William Owen, who is also a member of Sutton Veny Parish Council, said: "We are very pleased with the result - it is as good as we could have hoped for in the circumstances.
"The councillors voted unanimously to recommend a deferral of the decision until a later date pending further information.
"They felt there was a lack of information about the transport plan and had particular concern about loss of amenities due to the emissions and the effects they will have on the close neighbours of the chicken farm."
If the application is successful, four existing poultry buildings will be demolished and replaced by five large chicken houses accommodating 223,900 birds.
A spokesman for 2 Sisters Food Group said the redevelopment would "help sustain local jobs" and be "more aesthetically pleasing."
The site was last used in 2005 and accommodated about 155,000 birds.