Calne waste plant plans 'would increase traffic'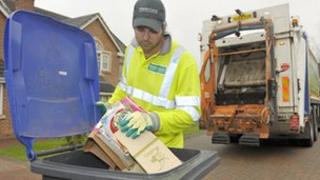 Proposals to expand the use of Wiltshire's biggest waste processing plant will increase traffic and pollution, a town councillor has said.
Calne Conservative Alan Hill is also worried the plans from Hills Group would allow waste from outside Wiltshire to be sorted at the site.
Hills wants to build a new waste recovery facility at Lower Compton. The public consultation ends on 7 December.
A Hills spokeswoman said it would lead to "better environmental management".
"We are not physically expanding the site but moving activities that are currently done outdoors inside," she added.
"This is bringing in newer and cleaner technology and will improve Wiltshire's ability to recycle its waste."
'Real concern'
Independent consultants for Hills found there would be an increase of 10.24% [2010 data] or 3.1% [2011 data] in vehicle movements.
Mr Hill said he "resented" that waste could come from outside of the county for processing at the plant.
"What we're not happy with is an expansion of a facility which, at the moment, is handling Wiltshire's waste perfectly adequately," he said.
"We already have a problem in Calne with pollution, It is in excess of government limits in certain places," he added.
"Increasing the traffic by 10.24%, and increasing the lorries' sizes, means that the pollution levels are going to go through the roof."
Hills also wants to extend and permanently retain the current facility, where household waste is sorted and recyclable materials are collected.
Conservative councillor Toby Sturgess, who is in charge of waste at Wiltshire Council, admitted the air quality in Calne was a "real concern".
"This will be considered when the report is written before it comes to the planning committee some time in the new year," he said.