Swindon Big Arts Day festival cancelled by council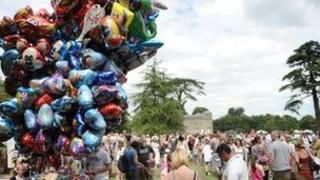 An arts festival in Swindon which annually attracted 20,000 people has been cancelled by the local authority.
Swindon Borough Council said it was axing the Big Arts Day, which takes place at Lydiard Park each July, because of "budget challenges".
The festival which ran for three years was organised to build on the success of Radio 1's Big Weekend event in 2009.
Garry Perkins, from the council, said "a lasting legacy" has been left for the arts community to build on.
He said: "We are now at the point where we simply don't have the resources to keep the event going, but we have had three fabulous years and I think we can safely say that we have met our objectives."
Festival director, Helen Miah, said: "We have laid some great foundations from which to build on and we will continue to work with Swindon's arts community to showcase the fantastic talent in the borough."