Drink ban orders to be trialled by Trowbridge police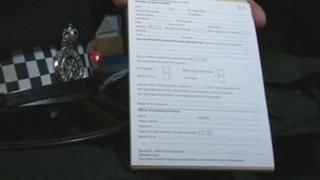 Drinkers who cause trouble could be banned from drinking in pubs and clubs under powers being tested out by police in a Wiltshire town.
The drink banning orders (DBO) will be given to persistent offenders in Trowbridge.
A Wiltshire Police spokesman said those breaching the orders would be arrested and put before magistrates.
Humberside Police, which has trialled DBOs, credits them with a 16% reduction in violent crime.
Sgt Jim Suter said: "If they are arrested on a Saturday night they can spend until Monday in police custody and there's a maximum fine of £2,500.
"It's not a blanket ban on drinking... it's targeting individuals that can't come out on a Friday or Saturday night and have a sensible drink and then go home without causing trouble.
"Maybe not being able to go out on a Friday or Saturday night with friends and family will educate them into drinking more responsibly," he added.
Pub licensees and door staff will be given colour photos of those who have been given DBOs and details of any individual conditions.
One doorman, Mike Hill, said: "If they are going to be facing a heavy fine then it will deter anyone from breaking it.
"Hopefully if we work well with the police it's going to be a better job."
If successful the orders will be rolled out across the Wiltshire force.
Last month Humberside Police issued its 100th DBO.
The orders are issued by magistrates and last for 12 months. Anyone breaching a DBO can be jailed.