Wiltshire flooding: River warnings still in place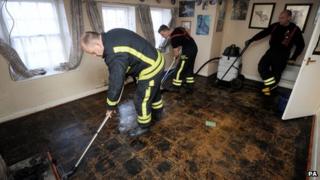 Four flood warnings are still in place across Wiltshire, with river levels remaining high and ground saturated.
Over the weekend 20 properties in Malmesbury were flooded and four people had to be rescued from two homes.
Firefighters remain in the town helping people clear debris and pump water from their homes.
A fund for those affected set up by the town's mayor has already received £500 and the Rotary club has loaned a number of dehumidifiers to help the clear-up.
BBC Wiltshire reporter Annie Weston, who is in the town, said the clear-up operation was in full swing.
Community spirit
She said the water levels in the River Avon were still high.
"In St John's Street, which was badly affected, there are still sand bags outside homes and rugs slung over fences and a skip full of personal possessions," she said.
Town Mayor Ray Sanderson said everybody had worked well together and the community spirit had been fantastic.
"The fire service has been helping people mop up - they've been out of this world - absolutely brilliant," he added.
A full list of the areas affected by the flood warnings can be found on the Environment Agency's website.
Wiltshire Council has been helping people affected with domestic items such as cookers or fridges.
The flood waters surged into the town in the early hours of Sunday. Many people said they had been taken by surprise by how quickly the water rose.
Elsewhere in the county, there are fears that parts of south Wiltshire could be affected by flooding if heavy rainfall continues.
The local authority says this is due to underground water aquifers in the area being nearly full.
Wiltshire Council's Jonathan Seed said: "This is something that we are very worried about because the water table is particularly high this year having had a very wet summer.
"When the aquifers should be draining they've been filling."