Malmesbury flooding: Clean-up operation starts in town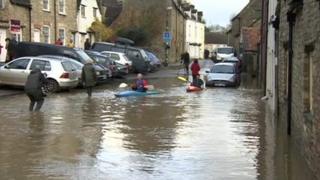 People living in the Wiltshire town of Malmesbury are starting a clear-up operation after it was badly flooded at the weekend.
Part of High Street was cut off by waist-deep water and roads in and out of the town were closed.
The mayor of Malmesbury said it was the worst flooding he had seen in the centre of the town for decades.
Wiltshire Council said it would be helping people affected with domestic items such as cookers or fridges.
Deputy leader of Wiltshire Council John Thomson said the community had been fantastic in supporting the victims and providing temporary rooms for them.
"The mayor is looking up a fund and the area board will be looking to see what we can do to help the people affected as we know the insurance companies never seem to cover everything that has been damaged," he added.
'Major disaster'
"If they need new cookers and fridges in the short term we'll look to help them with domestic items to help them get on with their lives."
Town Mayor Ray Sanderson said he had set up an appeal to raise money to help those in need.
"The damage has been absolutely phenomenal... it's been a major disaster for the town," he said.
"I've been told some people haven't got insurance so it is my intention to launch an appeal to raise some money for them.
"But there's been a big community spirit here and everyone has pulled together to help each other."
Duncan Hadland said his home had been flooded up to skirting board level but added his was one of the least affected.
"The carpets, washing machine and lino have all been ruined - we have insurance but we're not sure what they might pay out - if anything."
The Hadlands had been hoping to sell their house.
Jill Hadland said it was a huge worry that they might not be able to sell the house as a result.
"People worry about the river being near the house but now it's flooded it might mean we can never sell it again," she added.
'Worst flooding'
The flood waters had surged into the town in the early hours of Sunday.
Many said they had been taken by surprise by how quickly the water rose.
Four people were rescued by firefighters from two homes and about 20 were flooded.
One family-of-three was rescued through a first-floor window after the water pressure stopped them opening their front door.
Chris Harvey, watch manager at the town's fire station, said it was the worst flooding he could remember in the town, "certainly worse than in 2007," he added.
Elsewhere in the county Wiltshire Fire and Rescue Service said it had attended over 100 flood-related incidents since Wednesday
Most of these calls have come from north and west Wiltshire with crews pumping out dozens of properties and 40 people have been rescued from vehicles stranded in flood water.
The Environment Agency has 12 flood warnings in force for the county. Full details are available on their website.