Malmesbury flooding: Four people rescued from homes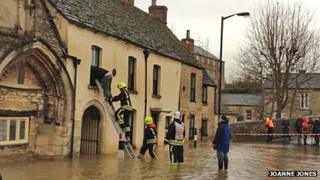 Four people had to be rescued by firefighters from two homes in the Wiltshire town of Malmesbury after heavy rain led to flooding.
The mayor of Malmesbury said it was the worst flooding he had seen in the centre of the town for nearly 70 years.
Part of High Street was cut off by and roads in and out of the town were flooded.
Flooding minister Richard Benyon has visited the town to see the damage for himself.
He said although the country is better prepared for flooding than it once was, no-one could deny the misery flooding caused.
"Our estimation was first thing this morning... five or six hundred homes [nationally] had been flooded.... but 20,000 will have been protected by flood defences built in recent years.
"That's what government needs to keep on doing," he added.
'Floating furniture'
The flood water, which was about 3ft (1m) deep in some places, has affected more than 20 homes in the centre of the town.
In one of the two rescues, a family-of three had to climb to safety from the upper window of their house, close to the river.
They could not open their front door because of the pressure of the water against it.
Chris Harvey, watch manager at the town's fire station, said: "It's the worst flooding I can remember in the town, certainly worse than in 2007 when there were problems."
High Street, St John's Street and some smaller streets were affected.
However, the water is now starting to recede.
Paul Kershaw's home was flooded when water breached the banks of the Avon.
He said although the river had been a bit high, "nothing was expected to crash like it did last night".
"At 10 o'clock, everything was fine, it was low. Come two in the morning I got a call from a neighbour saying it had entered into their house - mine seemed fine.
"And within 30 minutes of that, water was coming through the property.
"It all happened in a couple of hours."
Tom Hudson, landlord of the Rose and Crown pub, which is located just a few yards from the river, said: "The water is just outside the door.
"It's gone down a lot but I'm trying to get hold of some sandbags because more rain is forecast for later today.
"Houses across the road have been flooded to a depth of three or four feet, with furniture floating around in the rooms.
"I've been here 14 years and there were floods in 2000 and again in 2007, but this is much worse than either of those."
Elsewhere in the county the fire brigade was called out to flooded homes in Castle Combe, Minety, Swindon, Luckington and Purton.
Nine flood warnings are in force for Wiltshire.
BBC Wiltshire is broadcasting news and travel information on 103.5 FM, 103.6 FM, 104.3 FM, 104.9 FM.