Wiltshire flood warnings reduced but more rain falls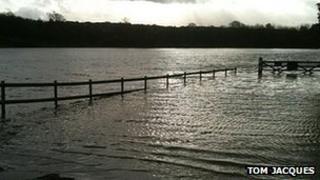 The Environment Agency has lifted six flood warnings around Wiltshire but three still remain.
The warnings are along the Bristol Avon at Bradford on Avon, Melksham and Malmesbury.
Heavy rain has fallen throughout Saturday and the Met Office expects it to continue overnight, with strong gales causing problems.
This week's heavy rain has already caused flooding with parts of north and west Wiltshire being hit the hardest.
BBC West weather forecaster Ian Fergusson called it a "wild spell" of weather.
"There are concerns over the accumulative impact of rain coming so quickly after this week's rain over the river catchments which have been sensitive to overflowing," he said.
'Topped up'
Much of the county enjoyed a respite on Friday from the heavy rain, however it was not long enough to dry out large areas of agricultural land which are still underwater.
Robbie Williams, from the Environment Agency, said: "Each time we get a wee bit of recovery and the water starts to drop in the river it gets topped back up again."
The rail line between Swindon and Bristol Parkway continues to be affected.
Train services are still being diverted to avoid a flooded junction at Chipping Sodbury, adding up to 60 minutes to journey times.
A First Great Western spokesman said rail travellers were advised "due to the limited infrastructure available not to travel unless necessary".
The enhanced content on this page requires Javascript and Flash Player 9
Map Key
Land
Cloud
Lakes, Rivers & Sea
Fog
Light
Heavy
Frost
Light
Heavy
Pressure Fronts
Cold
Warm
Occluded
Rain
Light
Heavy
Extreme
Snow
Light
Heavy
Temperature tab only
Temperature (°C)
More details from BBC Weather