Flood warnings in place in Wiltshire after heavy rain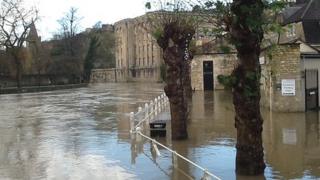 There are 10 flood warnings in place across Wiltshire, following heavy rain and strong winds overnight.
They are on parts of the Bristol Avon and Tetbury Avon at Melksham, Chippenham, Sherston, Malmesbury, Luckington and Bradford-on-Avon.
The Environment Agency (EA) has also put a warning in place for the Dauntsey Brook near Chippenham.
Simon Rowe, from Wiltshire Council, said "the river levels are still rising".
'Vehicle rescues'
A Wiltshire Fire and Rescue Service spokesman said crews had rescued 11 people from vehicles stuck in flood water since Thursday afternoon.
"This included two women whose car was stuck in 2ft of water on the road between Somerford Keynes and Minety in the early hours of this morning," he said.
"And overnight, we also attended at four properties in Easton, Tilshead and Minety to assist householders who had flooding in their homes."
Drivers are being advised not to drive through flood water if they are unsure of its depth.
On the roads, the A366 in Farleigh Hungerford has been closed in both directions because of a fallen tree.
'Levels still rising'
Wiltshire Council took 60 weather-related calls from the public during Thursday afternoon, with fallen trees and blocked roads becoming an increasing problem.
"The river levels are still rising," said Simon Rowe, the weather and emergency services officer.
He added: "We're liaising with the EA and they can tell us what the rivers are doing.
"But we're getting phone calls from people who are telling us that they can physically see the water level rising and we're trying our best to react to those."
Robbie Williams from the Environment Agency said there was more wet weather expected.
"I think there's more of what we're having to come over the weekend," he said.
"So each time we get a wee bit of recovery and the water starts to drop in the river it gets topped back up again."
Trains between Swindon and Bristol Parkway have been cancelled, delayed or diverted by up to 60 minutes due to flooding at Chipping Sodbury.
A First Great Western spokesman said rail travellers were advised "due to the limited infrastructure available - not to travel unless necessary".
'Flooded three times'
Carol Watling, who lives in Lower Seagry near Malmesbury, said she "feels numb" after being flooded for the third time in eight weeks.
She said: "We've lost everything, we've lost our possessions - but what I am worried about now is the health of my family.
"What came into our house? OK it's never clean water but we live downwind of a sewage station and 500 cattle and you can imagine what gets deposited in my house."
Chris Watling, her husband, claims the problem is a result of "inadequate drainage infrastructure".
He said: "We've got water coming from miles around here.
"It ends up in one 12in pipe which comes out in the ditch down below us and it just isn't big enough."
A Wiltshire Council spokesman said the authority had done everything it could to alleviate the situation and was "working closely" with local landowners to provide an alternative solution to "ease the flooding issue" in the area.
'Illuminated breast' cancelled
Meanwhile plans to transform Long Knoll hill near Mere into a giant illuminated breast have had to be postponed because of the weather.
The glowing nipple made up of thousands of plastic bottles was due to be revealed at the weekend to help raise money for UK breast cancer charity Cancerkin.
Light artist, Bruce Munro, said the event would now take place in March.
"We can't get vehicles up on to the knoll," he said.
"We did consider putting it into the field but actually then it loses its point so it will happen next year and we'll get the equipment up on the the top of the knoll well in advance to make sure we can do it."