Flood warnings in place in Wiltshire after heavy rain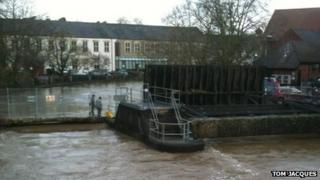 Strong winds and heavy rain battered many parts of Wiltshire, with 11 flood warnings in place in the county.
They are in parts of the Bristol Avon and Tetbury Avon rivers, affecting Melksham, Bathford and Chippenham.
Up to 30mm (1.2 inches) of rainfall is forecast in some parts and the Environment Agency has warned that more flooding is expected.
Spokesman Robbie Williams said "surface water flooding and blocked roads" were the main problems.
'Chainsaw crews'
Wiltshire Council took 60 weather-related calls from the public during the afternoon, with fallen trees and blocked roads becoming an increasing problem.
"Most of our calls have gone away from flooding and we've got trees falling down all over the place," said Simon Rowe, the weather and emergency services officer.
"Now I've got to turn my hand to the chainsaw crews. The rain is coming again later on and we're going to go back to flooding. Is it going to stop? I don't know."
Mr Rowe said "a lot of teams" were out in the county clearing drains, and filling and distributing sandbags.
"We can't get everywhere with them. There's only so much resources we've got. At the moment we're doing our best to deal with what we have," he added.
'Hit hard'
Trains between Bristol Parkway and Swindon were diverted or delayed.
The railway line was closed because the track at Hullavington was submerged.
Trains were diverted via Box which caused delays of 15 minutes. A reduced service was also in operation.
At its peak on Wednesday, railway operator First Great Western said all lines between Swindon and south Wales were blocked because of flooding, while Wiltshire Fire and Rescue Service took more than 60 calls in three hours.
Meanwhile, a Wiltshire pub that flooded for the second time this month on Wednesday may now be closed until after Christmas.
The Radnor Arms in Corston was due to re-open at the end of next week.
Landlady Paula Webley said the main bar had 6in (15cm) of water in it while the cellar had over 24in (60cm).
"Financially, it is going to really hit us hard because we needed the Christmas trade which we're obviously going to miss now," she said.
The enhanced content on this page requires Javascript and Flash Player 9
Map Key
Land
Cloud
Lakes, Rivers & Sea
Fog
Light
Heavy
Frost
Light
Heavy
Pressure Fronts
Cold
Warm
Occluded
Rain
Light
Heavy
Extreme
Snow
Light
Heavy
Temperature tab only
Temperature (°C)
More details from BBC Weather