Adrian Cooksey manslaughter: Richard Elmes jailed for 62 months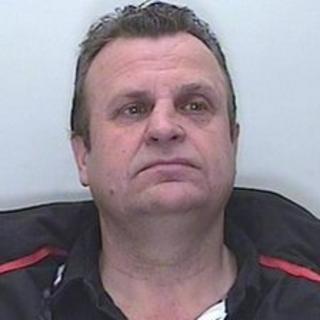 A Wiltshire man has been jailed for five years and two months after being found guilty of manslaughter and admitting perjury.
Richard Elmes, 51, landed a blow on Adrian Cooksey, who was discovered lying unconscious in Melksham, by an off-duty PCSO early on 8 March 2009.
He had also pleaded guilty to perjury in the previous trial of a student wrongly accused of the killing.
The judge said the attack had a "truly devastating effect".
Elmes was sentenced to 42 months for Mr Cooksey's manslaughter and 20 months for perjury.
Judge Neil Ford said that it was likely Mr Cooksey's family - members of which filled the public gallery - would "no doubt" feel the sentence was "wholly inadequate".
But he added the sentence was dictated by certain factors in the case, including that there was unlikely to have been any intention to cause death or serious harm.
Speaking outside court Det Ch Insp Ian Saunders said the two men had been socialising and on their way home.
"For three years, Richard Elmes continually and deliberately lied about his involvement to police and lied under oath," he added.
Speaking after the sentencing Mr Cooksey's family said Elmes "was supposed to be our dad's friend".
Life sentence
"It's has now been clarified that he punched our dad to the ground and left him lying there.
"How anyone can live with this and continue to lie to save their own skin deserves to have the key thrown away.
"Our family has been dealt a life sentence by this man," they added.
Elmes, of Melksham, Wiltshire, had denied landing the single blow to the head that killed his life-long friend.
In September a jury found Elmes, of Semington Road, guilty of the manslaughter charge by a majority of 10-2.
Mr Cooksey from Trowbridge, who ran the building and plumbing firm A Cooksey & Sons, was discovered lying unconscious in Spa Road after a drinking session.
He died of a heart attack in an ambulance while being taken to hospital.
A pathologist said Mr Cooksey had died from an overwhelming brain injury, when part of his head came into contact with the ground following a heavy blow to the face.
Mr Cooksey was a well-known member of Bradford-on-Avon Cricket Club, captaining the second team and playing many times for the first team.
Student Tom Minshull was acquitted of Mr Cooksey's manslaughter in November 2009 and a fresh investigation began.