Drivers at Upton Lovell told 'don't use' roadside mirror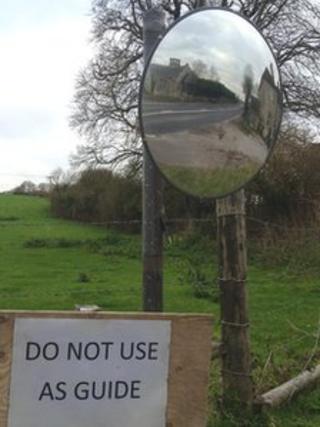 Residents of a Wiltshire village have put up signs warning drivers not to use a Highways Agency (HA) roadside mirror.
The agency put up a replacement mirror at the Manor Road junction near Upton Lovell, site of six crashes since 2009.
The HA said it does not normally install mirrors but agreed to replace an old flat one at the request of the Parish Council.
But residents claim it is "so small and so convex" it only gives a few seconds warning of oncoming traffic on the A36.
There have been six serious accidents at the site, the HA confirmed, with one fatal one on the day the mirror was installed, Upton Lovell Parish Council said.
The most recent accident involved local resident, Stanley Knight, who was killed when his car was in collision with a lorry, just after the new mirror was installed.
'Three second warning'
Jon Perrett, chairman of the council, said: "There was a large flattish mirror on that junction, which for 25 years plus served its purpose well - but last autumn it took a knock and we asked the Highways Agency to replace it."
"The agency put up a small highly convex mirror and on the same day Rocky Knight was killed.
"It's positioned and angled correctly but it's so convex, you only get two or three seconds warning of traffic coming from the right."
But an HA spokeswoman said the presence of a mirror did not relieve drivers of the responsibility to drive carefully.
"In June, there were two accidents at the junction on the same day," she said.
"A serious accident while the original mirror was in position and a fatality after the mirror had been replaced.
"Given this and the fact that there is limited visibility at the junction - a mirror on its own would not provide a solution to the safety issues at the junction."
The HA said it would be introducing "short-term safety measures" at the junction while a study looking at a permanent solution was undertaken.