Swindon Christmas market ending puts town 'back 10 years'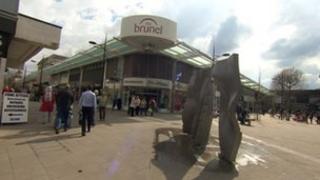 A business owner has said the cancellation of the Swindon's Christmas market has put it "back 10 years".
The event is not being held this year because of a disagreement between the town centre's management company, inSwindon, and the borough council.
Other traders have expressed their disappointment, claiming the market has increased footfall.
Barry Cook, who runs a cafe in the Brunel Centre, claimed the decision had put the town back significantly.
The market was due to run from 1 December until 5 January.
"All the good work that's been done by the retailers, by the Brunel Centre, and by inSwindon, to try and promote the town has been undone with a couple of fell swoops really," Mr Cook said.
"On the days that the market was here, we were actually consistently up 10%, 15% maybe even 20% on the day.
"We saw a footfall increase, as I believe did the other traders along our strip."
'Lack of footfall'
In a statement, Swindon Borough Council said legislation banning street traders from the town centre was brought in four years ago due to complaints that traders were a "source of unfair competition" and a "magnet for anti-social behaviour".
"The position on street trading in Swindon town centre has been very plain and clear since that time," it continued.
"The only area designated for street trading, which includes markets such as the Christmas market, is Wharf Green. Wharf Green is where the council hoped the Christmas market would be held this year."
However a statement from inSwindon said traders were not happy with the alternative location and were worried about the lack of footfall, so the event "regrettably" had to be cancelled.
"It is a great shame that we have had to come to this decision. We value the Christmas market as one of our key events in the Christmas campaign and this was a tough decision," said CEO Simon Jackson.
The Christmas market has run for the last two years in Canal Walk and was in Wharf Green before that.