Wiltshire PCC: How candidates hope to restore faith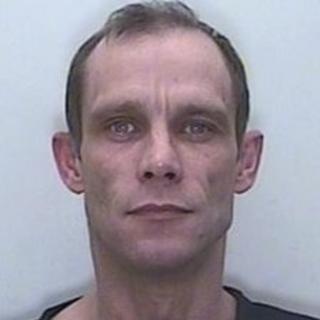 Wiltshire's new police and crime commissioner (PCC) will be the face of the force, but how will they improve public confidence?
The Independent Police Complaints Commission (IPCC) is currently investigating the force after convicted murderer Christopher Halliwell could not be put on trial for the murder of Becky Godden, whose body he led officers to, after a judge ruled a detective ignored arrest guidelines.
When this emerged, the victim's father, John Godden, said he would never put his trust in the police again.
The police force has also been involved in a legal battle over the reinstatement of a police officer, Sgt Mark Andrews, who was sacked after dragging a woman prisoner across the floor and throwing her into a cell.
A survey by the Wiltshire Police Federation in August also showed a 12% decline in morale, with officers believing there was a lack of manpower to get the job done.
The survey, which was completed by 60% of staff, also showed falling confidence in the police leadership.
Here the candidates hoping to be elected as Wiltshire's PCC give BBC News their views.
Paul Batchelor, Liberal Democrats
"I am aware of low morale that has for years been within the force.
"One of my first priorities would be to install some faith in Wiltshire Police amongst its officers.
"It is a difficult task and I would have discussions with the union, HR and individual officers to get their personal opinion of how they view the force and I will take it from there.
"I would want to see changes to morale within weeks and months and not two to three years. There needs to be a culture change which emanates from the top down.
"I will also go out and meet with various sectors of community to reassure them what is happening."
Angus Macpherson, Conservative
"Policing is done with the consensus of the public, not to the public and what they need to do is establish a relationship which enables them to report crime effectively.
"I will ensure that the right leaders are within the police force, that complaints are swiftly dealt with and that there's the right atmosphere within the force.
"Most officers join to serve the public and I think public forget that.
"We need respect for the police and for the police to respect the public.
"I would put policing back into communities, strengthen neighbourhood teams and make sure the public know officers so that everyone can work together to make the streets safer for people to enjoy."
Clare Moody, Labour
"I firmly believe that for whoever is elected, a major part of their role is to be in the community.
"I pledge that every week I will be out to meet the public in one form or another.
"I will take this seriously - it matters - and I need you to hold me accountable.
"One of things we're seeing is a huge breakdown in trust in the public and institutions. A large cause of that can be put down to a lack of transparency.
"The public need to know about decisions - they may not like them but at least they then can't say in 10 years 'I didn't know what you were doing'."
John Short, UKIP
"With the reinstatement of the sergeant [Mark Andrews], the law is the law, but it is unacceptable.
"However, you've got to abide by the law and make sure systems are put in place so it doesn't happen again and the public is protected in all aspects of the law.
"A full review also needs to take place of the arrest procedure.
"On the situation of faith in the police, the police should be more open and responsive to the public's concerns and requests with a more friendly attitude.
"I feel again there is an injustice [that] has taken place and the procedure needs to be reviewed, as the public believes the IPCC investigation is internal rather than external, so it needs to be made more open."
Liam Silcocks, Independent
"In the last few decades there have been many hundreds of cases where people have felt that their complaints or concerns have been swept under the carpet.
"Those things we need to look at to make sure that going forward, the police force is holier than thou.
"I would set up an independent voluntary panel, perhaps led by the Bishop of Salisbury, to meet once or twice a week to investigate and review these cases.
"It's the people of Wiltshire who need to be telling the PCC what the priorities are and how to shape their police force.
"We need to hit the reset button to get the public to have more faith and confidence in the police."
Colin Skelton, Independent
"I want to enhance the standing of the police service and one way is to ensure police officers are trained to the highest standards and follow best procedures.
"I will instil confidence in the force and fight tooth and nail to get more police officers recruited and out into our communities.
"I will recruit an extra 300 officers which will be paid for by not going through with the planned £129m private finance initiative deal for new training facilities.
"Instead, Wiltshire Police should share firearm training facilities with Avon and Somerset Police.
"We do have the best police force in the world but 20% in cuts means we stand to lose that."
On 15 November 2012, voters in England and Wales will go to the polls to elect the first ever police and crime commissioners (PCCs).