Royal Wootton Bassett lays wreath honouring repatriations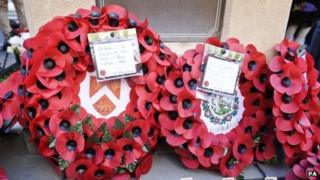 A special remembrance wreath has been laid in the Wiltshire town famous for its role in the repatriation of military personnel killed in war.
The wreath is made up of 355 poppies and has been laid during a service at the war memorial in Royal Wootton Bassett's High Street.
Each poppy represents the service personnel who had been repatriated between April 2007 and August 2011.
It was laid during a Remembrance Day service in the town.
The town's mayor, Mike Leighfield, said: "We all think back to how lucky we are to have the people who are prepared to put their lives on the line for our freedom.
"So we will be thinking about all of the soldiers that have lost their lives and hopefully they'll be some end to it. There has to be some end to it."
The town was renamed with the prefix "Royal" last year in recognition of the role it played in repatriations as its residents stood quietly showing respect for fallen servicemen whose bodies were driven through the streets.