Oasis Leisure Centre revamp plans go on show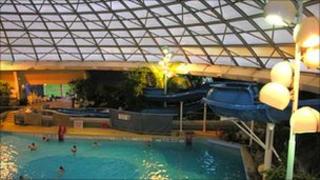 Plans for a snow dome in Swindon with falling snow and a water park have gone on display.
The £65m project will also see a 7,500 seat concert venue and a hotel built at the Oasis Leisure Centre site.
Swindon Borough Council wants to transform the 36-year-old swimming pool and sports centre.
The developers, Moirai Capital Investment Ltd, have said say they want to make Swindon the leading town in the South West for sport and recreation.
The council said it cannot afford the refurbishment and has offered a 999 year lease on the centre in exchange.
It hopes 1,700 jobs will be created, 1,000 of which will be permanent.
The consultation event is being held at the Oasis on Saturday.