19th Regiment Royal Artillery receive Afghan war medals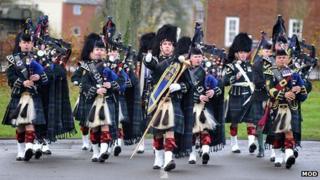 Soldiers from Wiltshire-based 19th Regiment Royal Artillery have received operational service medals for their deployment to Afghanistan.
Families and friends gathered at Bhurtpore Barracks, Tidworth Camp, to see the service which included a march by the Regimental Pipes and Drums.
The regiment was deployed between March and October this year across Helmand Province, supporting five Battlegroups.
More than 360 soldiers received their Diamond Jubilee Medals on Saturday.
Bombardier Ross Mitchell, 27, from Carnoustie, near Dundee, was watched by his wife and three children.
He said: "It is a proud moment with the families being here to watch us and good for the bairns (children) to see you getting a medal."
The regiment is now preparing for two parades next week back in its recruiting grounds in Scotland.