'Quiet zone' created on canal through Wiltshire village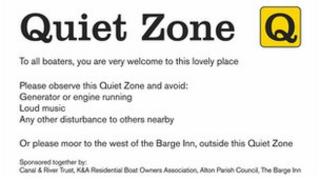 A 'quiet zone' has been created on a stretch of canal in a Wiltshire village.
Signs have been put up along the Kennet and Avon Canal near Pewsey asking boaters to avoid running generators or playing loud music.
The parish council had planned to ban all boats mooring between Honeystreet Bridge and west of the Barge Inn due to "ongoing problems with noise".
But at a meeting it was agreed to create a quiet mooring zone instead.
Charles Reiss, from Alton Parish Council, said he hoped the 'Q Sign' could be "repeated as a working model at other problem points".
He said: "It was agreed as a co-operative project between local residents, boaters and the Canal and River Trust - and it seems to be working.
"There are no consequences - it doesn't have any teeth but boaters appear to want to cooperate and are mooring beyond the Barge Inn outside the zone."