Cell-push policeman Mark Andrews wins job ruling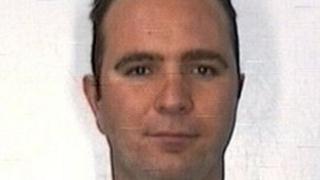 A police officer who was sacked after a woman prisoner was dragged across a floor and thrown in a cell must get his job back, a High Court judge has ruled.
Sgt Mark Andrews was jailed in 2010 for assaulting the 60-year-old, but had his conviction quashed on appeal.
He was sacked by Wiltshire Police, but an appeals tribunal ordered him to be reinstated to his £36,000 a year job.
On Friday, the High Court rejected the force's application for a judicial review of the tribunal ruling.
In his judgement released on Friday Mr Justice Ouseley said he expected the order for reinstatement made by the tribunal to be implemented "with full regard to its conclusions, and the failure of this unarguable challenge".
'Intolerant actions'
Wiltshire Police said it had been a "lengthy legal process" and one which was "necessary and right" to follow.
Chief Constable Pat Geenty added he did not believe it would be reasonable or proportionate to seek further legal appeal.
"I will now enter into discussions with Mark Andrews and his representatives in relation to his integration back into Wiltshire Police as a warranted police officer.
"The Police Appeals Tribunal accepted that Mark Andrews' actions were intolerant and discreditable and I felt they were a disgrace - there was no place in Wiltshire Police for this behaviour then nor is there now.
"While I believe the Police Discipline Panel's decision to dismiss Mark Andrews was correct, I accept the legal authority which states he must be reinstated."
William Mousley QC, who defended Sgt Andrews, said: "The judge's decision was that the then chief constable's [Brian Moore] challenge was 'unarguable', that Sgt Andrews had been 'handsomely acquitted' in the crown court, and 'properly acquitted' by the Police Appeals Tribunal.
"The judge also indicated that the then chief constable had refused to accept that the original discipline panel could even possibly have been wrong.
"The proceedings against Sgt Andrews are now at an end, more than four years after the events which gave rise to them and this ruling allows him finally to be reinstated, nearly two years after being dismissed."
Six-month term
Sgt Andrews' trial had been shown CCTV footage captured in July 2008 in which he is seen dragging Pamela Somerville across the floor of Melksham police station and throwing her on to the floor of a cell.
In September 2010, the officer was found guilty of causing Ms Somerville actual bodily harm and jailed for six months.
Sgt Andrews spent six days in prison but was bailed ahead of an appeal hearing against his conviction at Oxford Crown Court, which he won in November 2010.
His conviction was quashed after the appeal judge felt satisfied that Sgt Andrews had not intended to throw Ms Somerville into the cell
Despite that ruling Wiltshire Police sacked the officer, saying that, while not criminal, his behaviour had fallen "well below the standards expected".
Ms Somerville had been arrested after she was found asleep in her car near her Colerne home.
Police claimed she was detained for failing to provide a sample for a breath test.
She denied any wrongdoing and the charges against her were dropped due to insufficient evidence.