Endeavour Fund supports Race2Recovery Dakar Rally challenge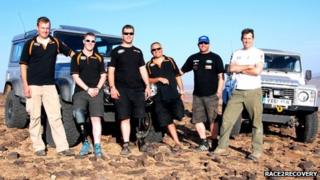 A group of severely disabled soldiers hoping to complete an off-road desert race have been awarded the first grant from a fund backed by the Duke and Duchess of Cambridge and Prince Harry.
The soldiers, part of rally team Race2Recovery, aim to become the first disability team to complete the Dakar Rally in South America in January.
The team is raising money for a personnel recovery centre in Wiltshire.
They will get from £100,000 from the Endeavour Fund towards their challenge.
The fund was set up set up by the Royal Foundation to enable more wounded and injured servicemen and women to take part in expeditions and sporting challenges as part of their recovery.
The Race2Recovery team consists of injured servicemen, former soldiers, sailors and airmen, and also people with no military background who are able to offer rally driving expertise.
'Realise our dreams'
Race2Recovery has already raised thousands of pounds for Tedworth House, one of five centres established as part of the Defence Recovery Capability (DRC), and hopes to raise more through this challenge.
The DRC is a Ministry of Defence-led initiative in partnership with Help for Heroes and the Royal British Legion to ensure wounded and sick servicemen and women have access to the resources they need as they recover.
Captain Tony Harris, one of Race2Recovery's rally drivers who is a below the knee amputee as a result of injuries suffered in Afghanistan, said the team was delighted members of the Royal Family had shown "such considerable faith" in the project.
He said: "The financial backing that the Endeavour Fund is providing will enable us to realise our dreams of becoming the first disability team to compete in the Dakar Rally.
"Not only that, but the foundation has recognised that our campaign goes further than just the racing activity, and that we're aiming to inspire other people who may be injured, sick or facing adversity."
At the launch of the fund earlier this year, Prince Harry said: "My comrades-in-arms across the armed forces are fighters by definition, fighters by nature.
"The Endeavour Fund aims to reignite that fighting spirit and inspire those who have served their country to go on and achieve great things."
The fund offers seed funding for new endeavours and will help emerging initiatives with advice, hands on support and mentoring.