Wiltshire PCC: Lib Dem hopeful to tackle anti-social behaviour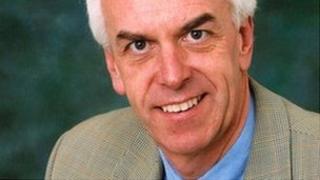 A Liberal Democrat PCC candidate in Wiltshire wants to tackle anti-social behaviour in the county "head on".
Paul Batchelor said his home town of Warminster had seen a 41% reduction in the past year and it was something he wanted to replicate further afield.
Mr Batchelor, a town councillor of 17 years, also said that "categorically" no further police stations would close if he were elected.
The police and crime commissioner elections take place on 15 November.
'Quality of life'
"Anti social behaviour affects every community around Wiltshire and Swindon," said Mr Batchelor.
"I feel that we can have a much better quality of life in Wiltshire if that was tackled head on."
One of the ways he believes he can do that is by giving full support to neighbourhood police teams.
He said: "It would be my imperative to support those and make sure that they have all the facilities they need to carry on doing the good job they do."
Wiltshire Police is facing cuts of £15m and the current budget is something he said he would not "feel confident" about tackling in the first year of the post.
'Underused police stations'
But managing the cuts will "take some innovative ideas", he added.
"There are underused police stations. I would certainly not close any police stations - enough have gone already.
"I am going to investigate the property portfolio and see where there is spare capacity, such as empty buildings or homes that used to be police houses, which can be brought back into use and be a revenue stream."
Mr Batchelor said his other priorities included tackling drug dealers and rural issues such as motorists speeding through village communities.
Standing in the election is Angus Macpherson (Conservative), Paul Batchelor (Liberal Democrats), Clare Moody (Labour) John Short (UKIP), Liam Silcocks (Independent) and Colin Skelton (Independent).