Joe Compton back home after lightning strike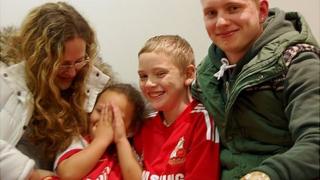 An 11-year-old boy who was hit by lightning has said he remembers "hardly anything" about the incident.
Joe Compton was struck near Dorcan Academy in Swindon in September and received first aid from leisure centre staff before being taken to hospital.
He was released from Frenchay Hospital near Bristol last week.
Joe's mother, Emma Dean, said: "He's lucky to be alive - if it weren't for the staff at that leisure centre he probably wouldn't be here today."
It was early afternoon on 26 September when Joe, who was waiting with a friend outside the school, was hit by a bolt of lightning.
"I was waiting for my friend to ring his mum and then I was struck by lightning - he [the friend] turned round and I was lying on the floor," Joe said.
'Didn't believe it'
As he went into cardiac arrest, staff at a nearby leisure centre rushed out to offer first aid before paramedics arrived.
Ms Dean said: "My dad rang me and said 'Joe's in the hospital, he's been hit by lightning'.
"When he told me I didn't believe it, I thought he was lying, it's not something you believe is it?"
Suffering from burst ear drums and severe burns, Joe was taken to Great Western Hospital in Swindon and later transferred to a specialist burns unit at Bristol's Frenchay Hospital.
Ms Dean said: "When you hear stories of people getting hit by lightning, they don't survive, and every day I wished I could take the pain and everything away from him.
"But because of what happened and the state that he was in, I was told to think the worst, but he surprised the doctors."
Joe's uncle, Shane Dean, remembers seeing his nephew at Frenchay Hospital after the incident.
"I was in there for about two minutes - he was sat up, his bandages were two inches thick all the way around and he was absolutely screaming," he said.
"He can't remember that pain but we all can - and to see him now is just unbelievable."
Lightning Bolt Joe
Joe barely remembers anything about his ordeal, and Mr Dean believes he is suffering from "selective memory".
He said: "He was laid in his bed and we didn't think he could hear us but my younger sister said 'if you pull through Joe - there'll be a PS3 waiting at home for you'.
"And when he did come round he was like, 'where's my PS3 then?'"
Now known as Lightning Bolt Joe on his PlayStation 3, his mother said it was a case of "getting him back to normality".
"He had skin grafts two weeks ago - they've started to heal...so hopefully he can go along with his normal life just having eye tests, ear tests and checks on his heart," she said.
"But he's pulled through and that's the main thing now."