Royal Anglian Regiment receive Afghanistan medals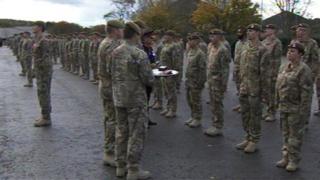 Six hundred soldiers from a Wiltshire-based regiment have received Afghanistan Operational Service Medals.
The troops from The Royal Anglian Regiment, based at Bulford Camp, recently returned from a six-month tour as part of Task Force Helmand.
During their stay they found more than 150 IEDs, 100kg of explosives and more than 340kg of raw and processed heroin.
Cpl Alex Guy, 37, from 1st Battalion, was killed in June during an operation to disrupt insurgent activity.
The Ministry of Defence said Cpl Guy, who lived in St Neots, Cambridgeshire, had been leading his section forward to assist a group of Afghan soldiers who were pinned down by enemy fire when he was fatally wounded on 15 June.
The medals were presented by the colonel of the regiment, Maj Gen PD Jones.
A number of homecoming parades are also due to take place from next week in Ipswich, Romford, Diss, Basildon, and Peterborough.