Wiltshire PCC election: Skelton aims to recruit 300 officers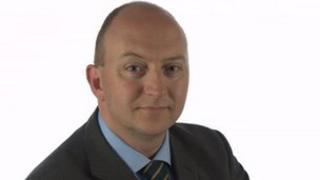 Plans to recruit 300 extra officers have been unveiled by an Independent candidate in the Wiltshire police and crime commissioner election.
Colin Skelton said this plan would be achieved by cutting salaries of the new government posts and ring-fencing leavers' salaries for new posts.
The Independent candidate said his budget would also mean a jobs freeze for civilian posts during this period.
The police and crime commissioner elections take place on 15 November.
'Car crime'
The new government posts are for a chief executive, finance officer and monitoring officer.
According to Mr Skelton the combined salaries would be reduced and would create a saving of between £300,000 and £400,000.
The recruitment drive would take place over a four-year period.
"I will ring-fence that money - so when a civilian member of staff leaving at the beginning of the year on a £50k salary [is not] replaced... their salary would pay for two new police officers."
He said in the third year of his programme he would have recruited 200 officers who would be used on the front line to cut crime.
He said: "Crime is expensive; a 15% reduction in burglary, criminal damage and car crime alone would save the county £16m every year.
"And I have not calculated the savings of other types of crimes or included the human pain and suffering that would be prevented."
Paul Batchelor is standing for the Liberal Democrats in the Wiltshire election, Angus Macpherson has been chosen as the Conservative candidate, Clare Moody is standing as the Labour candidate, John Short is the UKIP candidate and Colin Skelton is standing as an Independent.