Former PM Sir Edward Heath's Salisbury home to be sold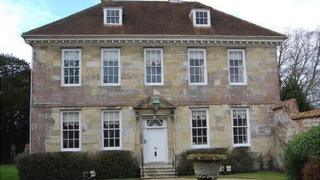 Trustees want to sell the home of former Prime Minister Sir Edward Heath due to "disappointing" visitor numbers.
The foundation which owns Arundells, in Salisbury, tried to close and sell the site in 2010 claiming it could not afford to run it but the sale was blocked by the Charity Commission.
Now, following a fall in visitor numbers, trustees want to reapply to the commission to sell the house.
But Friends of Arundells claim with a new business plan it "could be viable".
The historic house in Cathedral Close, where Sir Edward lived for the last 20 years of his life, was left to the nation and opened to the public in 2008.
Since then it has attracted more than 45,000 visitors but despite these numbers, trustees of the Sir Edward Heath Charitable Foundation maintain that it is not financially viable.
'Disappointing experience'
But following the Charity Commission's ruling last year, the foundation agreed to test the "feasibility of a three-year business plan" and the property was reopened to the public in late March 2012.
Since then, according to the foundation, visitor numbers have dropped from 9,200 in 2010 to just 3,600 and this year saw an operating loss of £97,000.
As a result, the foundation said it had decided "with regret" to close the house and put it on the market if the Charity Commission grants approval for the sale.
A spokesman for the foundation said: "No doubt the current economic and financial climate may partly account for the disappointing experience this year, though it has always been foreseen that visitor numbers would decline as memories of Sir Edward Heath receded into history.
"But the trustees are obliged to confirm the conclusion which they reached in 2010 that there is no prospect, indeed no possibility, of achieving financial viability so long as Arundells is retained and opened to the public."
'Will is clear'
However Gerald Gibson, from Friends of Arundells, believes with a different business plan "Arundells could be viable".
He said: "The opinion of the friends remains that had a number of proposals been implemented without delay the house could remain open to the public without further reduction in the foundation funds.
"Sir Edward Heath's will is quite clear in that his prime wish was for this house and its important collection to remain open to the public as a gift to the nation and that remains the prime wish of the friends and, we believe from overwhelming visitor feedback, the wish of the public."
He added: "The friends will now continue their efforts to keep Arundells open and will make strong representations to the Charity Commission against this closure."