Fatal drip error nurse suspended from hospital in Bath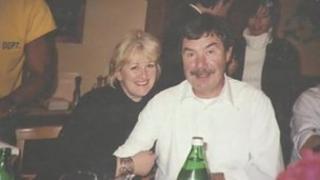 A nurse has been suspended after a patient at the Royal United Hospital in Bath died following a mix-up over his drip.
Paul Coventry, 56, from Lower Westwood, died in February 2011 when he was mistakenly given saline which contained dextrose.
Earlier this week, a coroner recorded a verdict of accidental death but also said neglect was a contributory factor.
The hospital has apologised and said procedures have been tightened up.
'Shocked and devastated'
Mr Coventry was being treated for kidney and liver failure.
He was mistakenly given a saline bag which contained dextrose which gave his blood sugar levels a false reading.
Insulin was then administered to bring down the sugar levels, which put him into a hypoglycaemia coma.
He became brain damaged and eventually his family asked for his life support to be switched off.
His fiance, Belinda Wells, said: "If one nurse had accurately read that bag in time, Paul might still be here.
"I can't tell you how shocked and devastated all of the people who love Paul were when we found out that this had happened."