Stolen Tidworth memorial to be reinstated for Armistice Day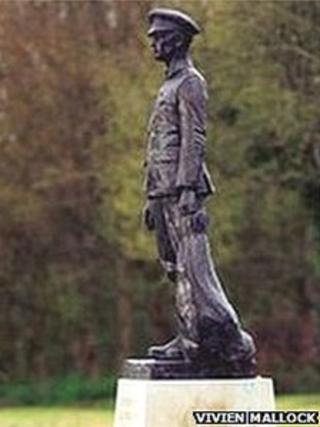 A war memorial is due to be reinstated in Tidworth, Wiltshire, a year after it was stolen from the garrison town.
The 4ft high (1.2m) bronze cast of a World War I soldier was taken from the grounds of the Royal British Legion just before Remembrance Sunday in 2011.
Pieces of the statue's ears, legs and tunic were later found dumped on Salisbury Plain.
A new cast of the memorial is expected to be unveiled in Tidworth in time for Armistice Day on 11 November.
The original statue, installed in 1998, was made as a "one-off" by Hampshire-based sculptor Vivien Mallock.
Unusually she kept the mould - which is normally destroyed after the casting - and contacted the Legion to offer a replacement at cost price.
Currently, the replica monument is being re-cast at a foundry in Hampshire with additional measures being put in places to ensure it will not be stolen again.
"We're using modern materials and several different fixings to anchor the piece down and a stainless steel armature - inside the legs and up through the statue - so nobody will be able to pull it off the plinth," said Geoff Moate, from Talos Art Foundry.
"We'll make it as close to the original as we can and will be patinating it to make it look like it's been there a while.
"But it's going to look a lot tidier than the original with no deposits on it from birds."
Last year's Remembrance Parade and service took place with a stone bowl of poppies temporarily replacing the statue.