MP's anger at Wiltshire ambulance centre closure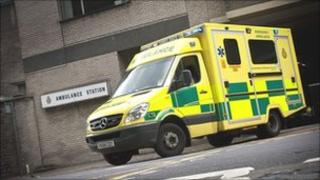 An MP has criticised the planned closure of an ambulance dispatch centre in Wiltshire.
Great Western Ambulance Service (GWAS) wants to cut £700,000 a year by moving its Devizes base to its Acuma House facility in north Bristol.
Conservative James Gray said the move would "spell an end to any kind of pretence at a local ambulance service".
GWAS chief Ken Wenman said there would not be a loss of local knowledge or reduction in service to patients.
In a letter to Mr Wenman, Mr Gray outlined his opposition to the plan and said: "I have always believed, and will continue to argue, that a Wiltshire-based ambulance service with a Wiltshire call-out centre serving Wiltshire people is best placed to serve my constituents."
'Retain the expertise'
The GWAS trust board has agreed the plan to integrate the service, and 33 members of staff, from March next year.
The majority of staff in the Wiltshire emergency operations centre (EOC) work across a 24-hour period dispatching ambulances around the area.
Mr Wenman said the trust was "keen to retain the expertise and commitment" of these staff.
Last year, GWAS responded to 91,632 emergency incidents across the Wiltshire area, out of a total of 273,300 incidents for the trust as a whole.