Sean Connolly in coma in India: Appeal to fly him home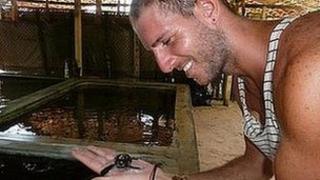 Family and friends of a Swindon man in a coma in an Indian hospital are trying to raise £55,000 to fly him home.
Sean Connolly, 26, has been critically ill and on life support since he was found collapsed on a street in Mumbai on 13 October.
He did not have travel insurance and it is costing £1,000 a day to keep him in intensive care, his friends have said.
Stewart King, who has known him since he moved to London in 2007, said: "We've raised £30,000 but need more."
Mr Connolly, who studied at Dorcan Technology College, in Swindon, before moving to London, had set-off alone on 12 October for a two-week backpacking holiday through India.
But a day after arriving, he was found lying in a street in Mumbai and admitted to hospital.
Since then the 26-year-old, who now lives in Shoreditch, east London, has been in a coma, suffering from a fever and respiratory problems and on life support.
"He was on his own so we don't know what happened," said his friend, Mr King.
"But we've been told there has been some brain damage but the extent of the damage has yet to be confirmed."
'Signs of progress'
Last week Mr Connolly was transferred to a private hospital and his father, Martin, flew out to Mumbai to be by his side.
And on Tuesday "due to the level of severity of his condition" an appeal was launched to raise an estimated £30,000 to fly Mr Connolly home.
"We've raised more than £30,000 so far but it is going to cost more like £55,000 to get him on a plane and get him home," said Mr King.
"But there are some signs of progress. Two of our friends have been at his bedside playing music to him - he loves his house music - and he's been twitching his fingers and responding but he hasn't opened his eyes yet."
A spokesman for the Foreign and Commonwealth Office said it was aware of the "hospitalisation of a British national in Mumbai, India".
"We are in contact with his next of kin and the hospital authorities, and are providing consular assistance," he said.