Giant 'hamster wheel' Irish Sea challenge is halted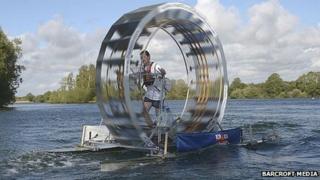 A Wiltshire engineer has had to halt his attempt to walk non-stop across the Irish Sea in a giant hamster wheel.
Chris Todd, from Bromham, set off from Trearddur Bay near Holyhead at around 13:40 BST on Sunday to tackle the 66-mile (106km) stretch of water.
But nine hours into the attempt, his hand-made paddlewheel raft had 'rudder problems' and he had to turn back.
Event co-ordinator Annie Davis, said: "He went a good distance in nine hours and he's shown it can be done."
The "Tredalo", powered by walking inside a large steel paddle wheel, was hand-crafted by Mr Todd in his back garden.
'Panic stations'
The endurance challenge, which involves walking for up to 48 hours inside the "Tredalo", is to raise funds for the Wiltshire Blind Association and the Royal National Lifeboat Institution.
"It's very weather dependant - there has to be an easterly wind of less than seven knots," said Annie Davies, from the Wiltshire Blind Association.
"We were only told on Saturday afternoon that there was a window in the weather and the crossing was going to happen and it was panic stations."
Launching the raft at Trearddur Bay, in perfect conditions, the 35-year-old was hoping to reach Greystones near Dublin in just under two days.
But at 22:30 BST, nine hours into the challenge and "nearly half way there", the Tredalo developed a technical problem.
"He was going really well and making a lot better progress than we'd actually anticipated when he had a problem with his rudders," said Ms Davies.
"But we know it works and it wasn't Chris himself that let the challenge down it was a technical fault."
Mr Todd is expected to try again later in the month and is still hoping to raise £20,000 for both the Royal National Lifeboat Institution and the Wiltshire Blind Association.