Homecoming for soldiers returning from Afghanistan tour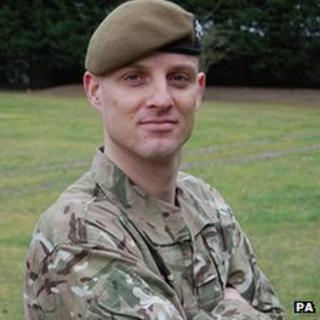 Soldiers from 1st Battalion The Royal Anglian Regiment have returned to Bulford Camp after completing a tour of duty in Helmand Province, Afghanistan.
The men from B (Suffolk) Company worked with the Afghan National Security Forces to help make it possible for NATO to hand back control of the area.
During the tour 37-year-old Corporal Alex Guy was killed by enemy action.
He was part of an operation to disrupt insurgent activity in Nad Ali, in Helmand, the Ministry of Defence said.
Awards for bravery
The company, known as The Vikings, now advise the Afghan Forces helping to build confidence in their ability to operate alone.
A homecoming was held at their base at Picton Barracks, Bulford Camp, in Wiltshire later where 115 members of B Company were welcomed home by their families and friends.
In 2007, during what was a particularly demanding six month tour, the battalion gained more than 70 awards for bravery including a Distinguished Service Order, six Military Crosses and a Queen's Gallantry Medal.
Before Afghanistan, the infantry battalion served in Iraq, Bosnia, Croatia, Northern Ireland and Belize.
It recruits from Norfolk, Suffolk, Essex and Cambridgeshire.