Northwood Environmental sorry for apprentice job cuts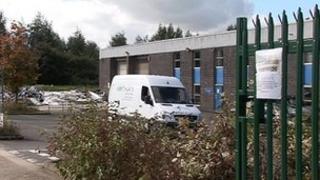 A company in Swindon that left 65 apprentices without jobs after going into administration has apologised "wholeheartedly".
Trainees at Northwood Environmental, on the Hawksworth Trading Estate, were taken on to dismantle and recycle old windows and doors for resale.
But on Monday, with some employees owed two months' wages, it was announced the enterprise had gone into liquidation.
A total of 150 trainees across the country have been made redundant.
Conservative MP Justin Tomlinson said it had been "an unmitigated disaster".
The enterprise - which has sites in Huddersfield, Warrington, Coventry as well as Swindon - was set up to reduce youth unemployment.
But despite appearing to be a "very successful business providing lots of opportunities" in Swindon the company had been "overwhelmed by debt", said Mr Tomlinson.
'In the lurch'
"We can see the business was clearly overwhelmed, cash flow was not in place and it expanded far too quickly.
"And 65 trainees have been left completely and utterly in the lurch and it's completely unacceptable."
Northwood Environmental's director James Jennings claims he is owed £250,000 by Skillsfinder UK, a government backed training provider.
But Skillsfinder UK told the BBC it did not owe Northwood such a large sum - as the only money it provides is to facilitate training on site.
In a statement, Mr Jennings, said: "It is devastating that our original intent of providing a solid first step on the career ladder for young people hasn't happened.
"All I can do now to address this is to put the company into liquidation as quickly as possible. I apologise wholeheartedly."