Sunken boat closes part of Kennet and Avon Canal in Wiltshire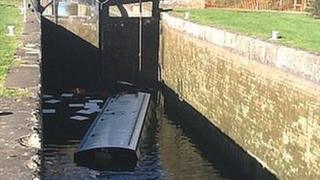 Part of the Caen Hill section of the Kennet and Avon Canal in Wiltshire has been closed after a narrow boat sank in one of the locks.
A spokesman for the Canal and River Trust said it happened at about 18:00 BST on Wednesday but nobody onboard the hire boat had been hurt.
The stretch of water between locks 22 and 44 has been closed to boat traffic.
The flight of 29 locks over a 2m (3.2km) stretch of the canal near Devizes helps raise barges 237ft (72m).
Peter Lancaster, a voluntary lock keeper, said it was "very, very rare that boats have come to grief" on the flight.
"We don't know yet what caused the boat to flood and sink but the gentleman onboard said it happened fairly suddenly," he said.
"We're pumping the locks out at the moment but we may have to get a crane on site to lift the boat out of the water.
"My best estimate is that it's going to take all day to do and maybe the day after as well."
Visitors to the tourist attraction can still use the tow path, which remains open.