Swindon lightning strike school pupils learn first aid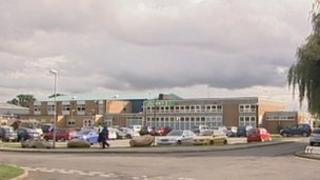 Pupils at a Swindon school where an 11-year-old boy was struck by lightning are to be given a demonstration of first aid skills.
Joe Compton was struck while walking close to Dorcan Academy in Swindon on 26 September.
The school's PE teachers and staff from a nearby leisure centre gave Joe CPR before paramedics arrived
Volunteers from St John Ambulance will highlight the importance of training including CPR.
The demonstration is part of the Dorcan Academy Showcase event being held at the school between 12:30 and 19:00 BST.
Joe had gone into cardiac arrest and stopped breathing when he was struck by the lightning bolt.
Paramedics managed to restart his heart and he was taken to the Great Western Hospital for treatment before being taken to the burns unit at Bristol's Frenchay Hospital where he remains in a stable condition.
Speaking shortly after the incident a Great Western Ambulance spokesman said the quick response from first aiders and paramedics had given Joe the "best chance of survival".