Tony Nicklinson right-to-die refused Court of Appeal hearing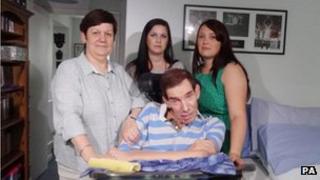 High Court judges have refused permission for the case of a man who fought for the right to die to go to the Court of Appeal.
Tony Nicklinson, 58, who suffered from locked-in syndrome, died from pneumonia after refusing food in August.
Mr Nicklinson was paralysed from the neck down after a stroke in 2005.
His wife Jane, of Melksham in Wiltshire, has vowed to appeal the decision which she described as a "setback".
Mrs Nicklinson pledged in September to continue with her husband's fight but judges refused to make her party to the proceedings.
The judges said they were "deeply conscious of her suffering" since Mr Nicklinson's stroke, but said they did "not consider that the proposed appeal has any real prospect of success".
'Not the end'
Mrs Nicklinson said she was "surprised" at the decision which she described as a "setback" and said "this is not the end by any means".
She said that she will now appeal directly to the Court of Appeal.
She said: "It can happen to anyone, anyone can be fine today and tomorrow find themselves in Tony's position. [The campaign] was for other people as well.
"So much hard work has gone into to it from us, from Tony and from our legal team that it just seems a huge shame now for it to be put on hold again."
Mr Nicklinson's legal fight took place at the same time as that of another man with locked-in syndrome.
The second sufferer, who cannot be named for legal reasons, but is known as AM or Martin, suffered a stroke in August 2008.
He was given the go-ahead for action against the Director of Public Prosecutions to be heard by appeal judges.
He is unable to speak, is virtually unable to move and describes his life as "undignified, distressing and intolerable" - he wants to be allowed a "dignified suicide".
His lawyers said the High Court ruling deprived 47-year-old Martin of "the opportunity to take the necessary steps to end his own life".
The parties were informed of the appeal decisions made by Lord Justice Toulson, Mr Justice Royce and Mrs Justice Macur, in a written ruling sent to them on Tuesday.