Woman gives birth at Swindon bus stop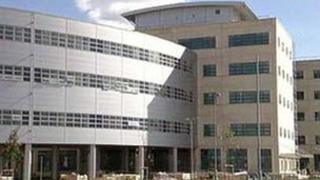 A woman has given birth at a bus stop outside a Wiltshire hospital.
She had the baby girl in front a small crowd of helpers outside the Great Western Hospital (GWH) in Swindon.
The mother and baby were taken to the hospital's maternity unit after doctors and nurses came to her aid. A GWH spokesman said both were well.
Debbie Sadler from Baydon, who saw the birth as she came out of the hospital, said: "She was amazing. Everyone was watching, poor woman."
Ms Sadler said she had been having lunch with her daughter, who is a nurse.
"We were coming out the door, when we heard the most horrendous screaming and shouting," she said.
"We could see three or four ladies holding the woman up, then we heard 'the head's out'."
'Everybody cheered'
Ms Sadler, a mother-of-three, said doctors and nurses ran to the woman, then she heard the baby cry.
"As we were gathering a lady came and started pushing people out of the way and told them to go to the next bus stop," she said.
"When the baby was born everybody cheered.
"She was amazing. Everyone was watching, poor woman.
"I can't imagine what it was like to give birth in front of everyone."