Swindon schoolboy hit by lightning in 'stable' condition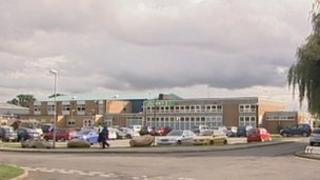 A schoolboy who was struck by lightning in Swindon is in hospital in a "stable condition".
Joe Compton, 11, was struck while walking close to Dorcan Academy in Swindon on Wednesday afternoon.
He was taken to Great Western Hospital in Swindon and later transferred to Frenchay Hospital near Bristol.
A statement from Joe's family said they wanted to thank the school's PE teachers and staff from a local leisure centre who came to his aid.
"We owe a huge amount of thanks to them," the family said.
"Joe is in a stable condition at Frenchay Hospital with his family by his side.
"We would like to thank everyone for their support."
'Not breathing'
Head teacher Scott Sissons said it was "remarkable" Joe had been hit by a bolt of lightning.
"There was an absolutely phenomenal lightning bolt just outside the school with a simultaneous clap of thunder," he said.
"I looked out of my office and saw leisure centre staff [from a nearby building] running as fast as they could to where the lightning had struck.
"I dialled 999 and ran out to see what was going on. I found a young lad lying flat on his back not appearing to be breathing."
The boy received first aid from leisure centre staff after going into cardiac arrest before paramedics arrived.
He was later transferred to a specialist burns unit at Frenchay Hospital.