Schoolboy struck by lightning in Swindon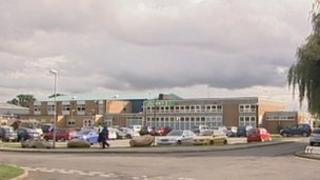 A boy has been struck by lightning leaving him in a "serious but stable condition" in a Wiltshire hospital.
The 11-year-old, who is believed to be a pupil at the Dorcan Academy in Swindon, was injured shortly after 15:00 BST.
He received first aid from school staff after going into cardiac arrest before paramedics arrived.
The boy was taken to the town's Great Western Hospital and later transferred to Frenchay Hospital in Bristol.
At 19:45 BST, a Great Western Hospital spokesman described the boy's condition as "serious but stable".
'Quick response'
A spokesman for the ambulance service said that when paramedics arrived, first aiders were giving the pupil CPR.
"We had a paramedic in a rapid response vehicle on scene at 3:16pm and an ambulance crew a couple of minutes later," the spokesman said.
"In the meantime, while we were en route, we understand the better-trained first aiders from the school were providing CPR because the patient had... gone into cardiac arrest.
"Our paramedics took over treatment when they arrived on scene. They got a heartbeat and him breathing for himself again on scene.
"We took him straight to the Great Western Hospital in Swindon and he arrived there at 3:34pm.
"In terms of our response he was in hospital conscious and breathing again within 24 minutes.
"The quick response from school staff and paramedics gave him the best chance of survival."