Suicide police chief David Ainsworth 'was not vetted'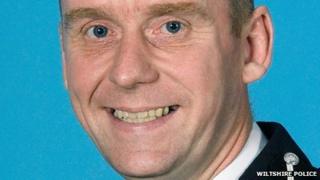 A police chief who killed himself over allegations he harassed female colleagues was never vetted for the job, a report has revealed.
David Ainsworth, Deputy Chief Constable of Wiltshire, hanged himself fearing he would "lose everything".
The officer, 49, had been removed from duties and later placed on secondment.
The report from Her Majesty's Inspectorate of Constabulary (HMIC) said there were "apparent failures" in the Wiltshire force's vetting policy.
HMIC was also critical of it for "assuming" its professional standards department had completed vetting on Mr Ainsworth during the 18 months between him becoming deputy and his death.
The Association of Chief Police Officers (Acpo) issued guidance in 2010 that sets out the "common standards for vetting and personnel security", but this was not followed in the officer's case, the report indicated.
Vetting takes place when an officer takes on a new role and requires access to new restricted information and is designed to prevent corrupt, dishonest and unprofessional behaviour.
'Green light'
The HMIC report added that a lack of vetting was "not an issue singular to Wiltshire Police" with senior officers "across a number of other forces" believing vetting "processes occur automatically".
But Wiltshire Police Authority chairman, Christopher Hoare, said HMIC should accept some of the blame after approving application forms for the deputy chief constable post that did not include a section for vetting.
"We'd always made the assumption, I think understandably, that HMIC together with Acpo would have gone through that process," Mr Hoare said.
"After all, HMIC make the recommendation to us about the suitability of candidates but more importantly they recommend to the Home Secretary that these people are right to be senior police officers.
"We had a recommendation from HMIC that Mr Ainsworth was suitable and we went through a formal interview and we took references from his previous chief constable and he was given the green light."
However, the report also said the force was "ill-prepared" to deal with the "exceptional situation" of harassment complaints against Mr Ainsworth.
'Progressive organisation'
The complaints were dealt with by South Wales Police and, despite concerns about the length of time it took, the inquiry had been "proportionate and timely"
Wiltshire Police said it is "confident" changes have been made in response to the review.
"We will continue to build a progressive organisation where staff treat each other with respect and every staff member feels confident to report wrongdoing," a spokesman said.
At Mr Ainsworth's inquest in June, the coroner cleared the force of any failure in caring for his welfare.
The claims against father-of-four Mr Ainsworth were under investigation when he was found dead in his garage at his home in Potterne, Wiltshire, on 22 March 2011.
He had previously served for 22 years with Kent Police, where he rose to assistant chief constable and was the Association of Chief Police Officers' spokesman on vehicle crime before moving to Wiltshire in 2008.