Swindon's 'iconic' Magic Roundabout turns 40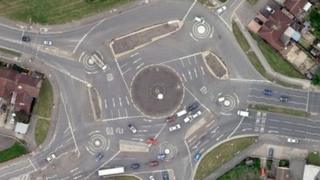 A roundabout enthusiast has described a well-known Swindon landmark which is turning 40 as "iconic".
The junction known as the Magic Roundabout, located near the County Ground football stadium, opened in September 1972.
Its unusual design consists of five mini-roundabouts arranged around a sixth central, anti-clockwise roundabout.
Roundabout fan Kevin Beresford said the junction was a "white knuckle ride".
Mr Beresford, who runs the roundabout appreciation society, Roundabouts of Great Britain, said: "Swindonians should beam with pride with this fantastic feat of road engineering, which it has to be stated has now achieved iconic status around the world."
The local authority officially named the junction County Islands Roundabout, but it became commonly known as the Magic Roundabout due to its unique design.
Ring junction
The combination of traffic islands known as a "ring junction" was the brainchild of the British Transport and Road Research Laboratory and Swindon Borough Council's highways department.
The roundabout was designed to replace the old Drove Roundabout junction, which had seen a number of accidents and was considered to be dangerous.
When it opened in 1972, police were stationed at each mini roundabout during the pilot phase to assist drivers and oversee how traffic coped with the unique design.
As relatively few accidents have been recorded at the roundabout over the years, it is largely considered to be a success.
Despite that, in a December 2007 survey by the Highway Insurance Agency, the roundabout was voted the seventh most feared road junction in the country.
Julian Brunetti, who runs Queens Drive Post Office which looks out onto the roundabout, said: "Some people come in and panic and say 'oh how do I get across it', but overall it's pretty good really.
"You get the odd accident now and again when people are a bit silly, but if you say the Magic Roundabout, everyone links Swindon to it."
'Shock factor'
Mr Beresford said: "Over the decades this roundabout must have had its fair share of knockers.
"I feel it's all to do with the initial shock factor on first viewing it. Once you experience and get over those first few scary moments, the whole system works beautifully.
"Now this one way gyratory is not a 'love at first sight' roundabout. Its not aesthetically pleasing to the eye by any stretch, but functional-wise it is perfect."
Roundabouts of Great Britain members organise trips to Swindon to visit the junction, and the society produces Magic Roundabout memorabilia such as calendars and key-rings which sell all over the world.
Asked to define what makes this particular roundabout "magic", Mr Beresford said: "Magic roundabouts are not unique in Britain, they are not common but there are a few about.
"What's special about Swindon's Magic Roundabout is it's all on view the moment you enter the system.
"You have that superb mother roundabout at the centre with its five outer orbiting painted mini traffic islands all producing a car choreography that stuns the senses.
"It's awesome."