Giant 'hamster wheel' Irish Sea challenge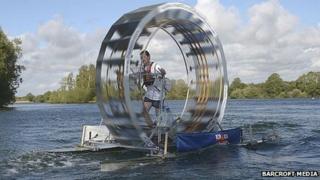 A Wiltshire engineer is planning to walk non-stop across the Irish Sea in a giant hamster wheel.
Chris Todd, from Bromham, will tackle the 66-mile (106km) stretch of open water by walking for up to 48 hours in a hand-made paddlewheel raft.
The endurance challenge, planned for next month, is to raise funds for the Wiltshire Blind Association and the Royal National Lifeboat Institution.
Mr Todd said it was "on the very edge of what I believe is possible".
The "Tredalo", powered by walking inside a large steel paddle wheel, was hand-crafted by Mr Todd in his back garden.
It took just under a year to build and can handle waves of up to 3ft (1m).
'Running 10 marathons'
"I've tested it on lakes and in the sea but that has only been for a couple of hours, which is totally different to a couple of days," said Mr Todd.
"But the only way we are going to know if it will stand up to the battering from the waves is to actually do it."
Launching the raft at Trearddur Bay, near Holyhead, the 35-year-old is hoping to reach the east coast of Ireland in just under two days.
"It is going to be one of the toughest things I've ever done," he said.
"Imagine spending 48 hours on a stepping machine in the gym without getting any sleep.
"It will be like running 10 back-to-back marathons."
During the challenge, Mr Todd will consume around 30 litres of water and more than 36,000 calories, the equivalent of about 140 Mars bars.
But following an eight-hour training session, on a static training wheel, Mr Todd said he was more concerned with the "mental challenge".
"It is a bit like being on one of those fairground rides, where you walk though a rotating tunnel and end up losing your balance," he said.
"And unlike endurance races on land, the horizon is going to be bleak and featureless.
"So it will be mentally challenging as well as physically."
Mr Todd is hoping to raise £20,000 for both the Royal National Lifeboat Institution and the Wiltshire Blind Association.