Adrian Cooksey manslaughter: Son's 'relief' at guilty verdict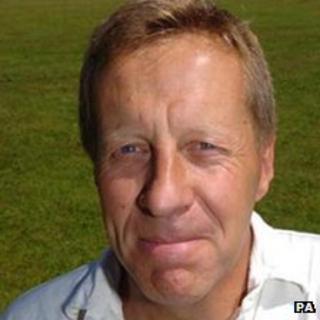 One of the sons of a Wiltshire man who died on a night out has spoken of his "utter relief" at the conviction of his killer after three-and-a-half years.
Richard Elmes, 51, of Melksham, was found guilty at Bristol Crown Court of the manslaughter of Adrian Cooksey.
Elmes pleaded guilty to perjury in the previous trial of a student wrongly accused of the killing.
Mr Cooksey's son Adam said: "It's a sad state of affairs but we know who killed our dad now."
His father, from Trowbridge, who ran the building and plumbing firm A Cooksey & Sons, was discovered lying unconscious in Spa Road, Melksham, after a drinking session, in the early hours of 8 March 2009.
A pathologist said Mr Cooksey had died from an overwhelming brain injury, when part of his head came into contact with the ground following a heavy blow to the face.
Elmes had denied landing that blow.
Adam Cooksey said: "It's three-and-a-half years on. Simon's had a baby, I've had a baby, so we've had some good times and then we had to go through the first trial which was obviously bad.
"It's just utter relief to be stood here and get the verdict we wanted.
"I knew it was him, the jury knew it was him. It's done with... and we can put it to bed.
"The poor boy who went through the trial in the first place should never have been there should he? We all know that."
Speaking about his father, he said: "He was a nice guy. He was never ever going to have a confrontation with anyone.
"He didn't deserve to die like that, to be left on the street. That's the thing that upsets us the most I think.
"He [Elmes] says he was his true friend. Why did he leave him on the street to die? You don't do that if you're a friend."
Judge Neil Ford told Elmes a custodial sentence was inevitable but granted him bail to put his affairs in order.
Tom Minshull was acquitted of Mr Cooksey's manslaughter in November 2009.