Corruna Company return from Afghanistan tour of duty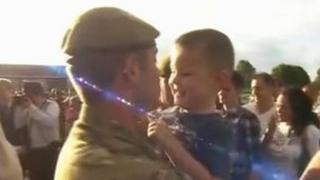 Soldiers from 3rd Battalion The Yorkshire Regiment, which lost six men in a Taliban bomb blast in March, have flown home from Afghanistan.
The men from Corruna Company returned to Battlesbury Barracks in Warminster, Wiltshire.
Cpl Jake Hartley, 20, Pte Anthony Frampton, 20, Pte Christopher Kershaw, 19, Pte Daniel Wade, 20, and Pte Daniel Wilford, 21 died in the blast.
Sgt Nigel Coupe, 33, who was on secondment to the regiment, also died.
Of the five men serving with the battalion, three were from Huddersfield, Pte Wade was from Warrington, Pte Kershaw was from Bradford and Sgt Coupe was from St Annes in Lancashire.
The deaths represented the biggest single loss of British life in Afghanistan since September 2006 when an RAF Nimrod crashed, killing 14 people.
The six soldiers had been on a security patrol in a Warrior armoured fighting vehicle when it was caught in an explosion in Kandahar province.
The regiment as a whole will be given the freedom of Warminster in a parade on 30 November when they will also get their campaign medals.