Swindon town centre could become culture destination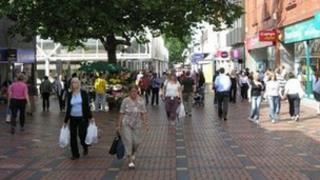 Swindon could become a new cultural centre under a scheme which suggests an art gallery and theatre are built.
The 15-year plan for the town has been put together by Forward Swindon - a firm tasked by the borough council with bringing in new business.
Swindon Borough Council's Conservative leader Rod Bluh said the work was a "post-recession refresh".
"Town centres are now becoming more about being leisure destinations," Mr Bluh said.
He added that the town was currently undergoing large-scale redevelopment at sites such as the former Swindon College.
Mr Bluh said the council was now seeking more investment.
"This isn't about something that is going to happen in the future, it's happening now, what we want it more of it to happen in the future.
"We are absolutely committed that we need to put a much stronger cultural emphasis into the town centre," he said.
The plan suggests that a new art gallery would "help to transform Swindon's image and identity and draw visitors back to the town centre".
The plan suggests it would "act as a catalyst for further investment".