Tony Nicklinson: Funeral of 'right-to-die' campaigner held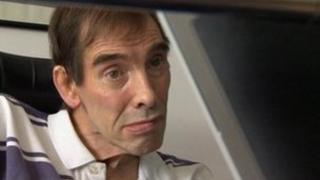 A funeral service has been held for Tony Nicklinson, who died after losing a legal bid to end his life.
A private service attended by family and friends took place at Semington Crematorium near Trowbridge, Wiltshire.
The 58-year-old, who had locked-in syndrome, lost his High Court case to allow doctors to end his life without fear of prosecution, on 16 August.
Mr Nicklinson died from pneumonia at his home in Melksham on 22 August after refusing food and fluids.
Earlier this week his widow, Jane Nicklinson, said she hoped somebody else would continue with his fight for a change in the law.
"Even though we didn't win, all the hard work for the case has been done.
"I hope at some point, someone will come forward and carry on with what Tony started," she said.
Mr Nicklinson's family asked for his funeral to be a private service for family and friends only.